SNL, 9/26/09 - Megan Fox & U2
Kristen Wiig dismisses the potentially career-ending flub like a true champ.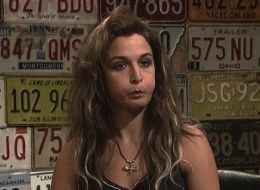 Biker Chick Chat
Megan is said to have outstaged Kristen Wiig in this skit. Quite an accomplishment.
Megan Fox ... Donna
Jenny Slate ... Dawn
Kristen Wiig ... Beth
Note: Jenny Slate accidentally cursed in her sketch debut, and because it wasn't planned, they didn't catch it, and it aired live. Pretty funny, but I hope they aren't too hard on her. It was the 3rd time it ever happened. 1st time got Charles Rocket canned. 2nd time was Cheri Oteri, who quickly apologized to all the execs and went on air and put a dollar in the swear jar to publically (and humorously) apologize. It worked and she got overlooked.
Jenny Slate
, you should immediately apologize to the execs and get on SNL and put a dollar in the swear jar (maybe in the goodbyes of the next show).
Here is Jenny Slate's curse flub (
WARNING: Language
):
http://www.huffingtonpost.com/2009/09/27/snl-premiere-f-bomb-video_n_301081.html
Jenny puffs her cheeks to show that she knew she messed up pretty big. Kristen Wiig dismisses it like a true champ. Here are some temporary versions: