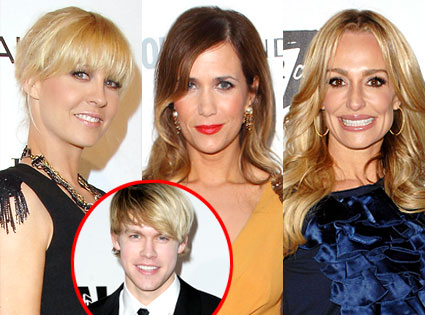 TVLine.com is reporting that Smallville alum John Schneider has been cast as Sam's dad. As of right now, he's only booked for one episode, the same one where Chord makes his big return (episode eight)...
Glee is currently casting for Sam's mom, aka: Momma Trouty-Mouth, and we have first dibs as to who we think should grace Lima, Ohio with her presence. We've come up with some fabulous ladies who would be perfect to play the mom of a life-sized Ken doll and we need your help to decide who would be the very best...
That's right, take it all in! Sam's return is only four episodes away and rumor has it he'll be singing Bruno Mars' "The Lazy Song." However, the actress who will play his mom has not yet been unveiled. A little fishy has told us that they are looking for a blonde or brunette woman in her 40s. Hmm…
True, Glee will most likely cast a lesser-known actress for the part, but just let us dream, OK? Whoever this woman will be, we hear she might be around for more than one episode. We are so excited to finally get to meet some more parents this season (still waiting on Rachel's dads!), so we've rounded up out Top Picks to join the cast as Mrs. Evans:
Kristen Wiig
: After watching her numerous years on SNL and practically choking on our Sour Patch Kids from laughter during Bridesmaids, we are confident that Wiig could take any role and spin it into comedic gold. And as an added bonus she totally looks like she could be related to Sam! (It's all in the noses.)
Read the rest here:
http://www.eonline.com/news/watch_with_kristin/glee_casting_scoop_who_should_play/273191#ixzz1cnhO4Fhx
Enjoy!