Kristen Wiig: 'Bridesmaids casting was important'
Kristen Wiig has confessed that she felt under pressure to get the casting of Bridesmaids right.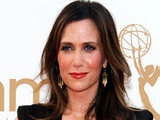 The Saturday Night Live star, who wrote the 2011 comedy with Annie Mumolo, revealed that only Wendi McLendon-Covey, Maya Rudolph and Melissa McCarthy were offered their roles without having to audition, a process which Wiig found strange to oversee.
"To really sit on the other side of that was really eye-opening and weird. I definitely know how it feels to be the person walking in and doing an audition," Wiig recalled in a new interview with Paper Mag.
"in my experience, to like, say something awkward and then leave my bag in the room - it's a nerve-racking thing. Getting these relationships and chemistry down between the actors was really important, because that was the biggest part of the movie."
Wiig also expressed her frustration with the media's obsession with the mostly female cast, saying: "It's unfortunate that this is only now being talked about, because women have been present in comedy for so long. There have been tons of movies with lots of women in them before Bridesmaids.
"It's just a confusing thing to me. But you know, if more movies are getting green-lit, and writers are getting a chance because of this movie, I couldn't be happier. That's such a great thing, because the fact that they weren't is kind of awful."
From:
http://www.digitalspy.com/movies/news/a354743/kristen-wiig-bridesmaids-casting-was-important.html

Enjoy!