We'll see this season, which could be her last on SNL (because her contract ends this year)...
Kristen Wiig to retire Gilly and Penelope characters on 'SNL': Good riddance?
Sorry? In a recent Time article about Saturday Night Live star Kristen Wiig (whose painfully funny flick Bridesmaids opens in theaters next week), it's reported that two of the love 'em or hate 'em characters she's created for the show — Gilly and Penelope — are about to be gone for good.
As the mag notes, the decision did not come at the request of SNL creator Lorne Michaels, who not only praised Wiig in this article (he compares her to vets like Dana Carvey, Phil Hartman, and Dan Aykroyd), but also told the New York Times just last week that he would place her in the top three or four performers all-time on the show. But rather, Wiig herself has decided it's time to pull the plug on the trouble-making child Gilly and the one-upping chatterbox that is Penelope.
Despite having her very own Christmas special, it's safe to say Gilly has been one of the more unpopular characters on the show in a while. It's no slight at Wiig though — most SNL recurring characters, particularly the ones that border on annoying from the get-go (see: Chris Kattan's Mango… or Mr. Peepers), tend to outstay their welcome faster than others. And though part of me will miss Penelope — though, let's face it, there really are only so many more things she can brag about — I'm just grateful she didn't give Junice the axe. I would have cried into my tiny baby hands over that one.
From:
http://popwatch.ew.com/2011/05/03/kristen-wiig-gilly-penelope-retired/
In an interview with TIME, Kristen Wiig reveals she's killing off two of her most beloved SNL characters:
"The precision of idiosyncratic looks and gestures is what lets Wiig take one-note characters (a woman who can't keep a secret! A woman who one-ups everyone else's story! A Lawrence Welk–era backup singer with deformed hands!) and make them compelling in their quirkiness. "As much as she goes to extremes and flies off on a broom, her characters are grounded," says Bridesmaids' Rudolph, who also worked with Wiig on SNL. "There's an uncomfortable quality to a lot of them that's painfully funny." Because her characters are simple, she's smart enough to retire them long before other SNL cast members would. She'll no longer do Penelope the one-upper or Gilly the mischievous schoolgirl, not even at Michaels' request."
Read more:
http://www.towleroad.com/2011/05/no-kristen-wiig-kills-off-gilly-and-penelope.html#ixzz1Yh98nwyK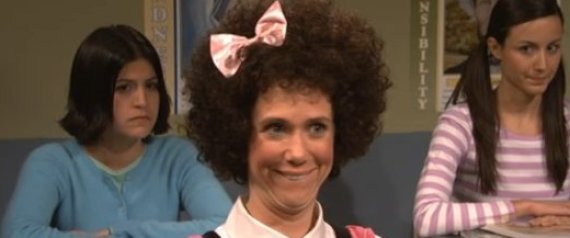 You can take the poll here, where 39% are sad to see Kristen's two popular/annoying characters go, 37% are glad to see them go, and 23% don't care (because she has other great characters):
http://www.huffingtonpost.com/2011/05/03/kristen-wiig-retiring-snl-characters-gilly-penelope_n_856986.html
Enjoy!